So.....there we are. Sitting in class at church. There were about 10 young men from the ages 12-18 staring at me as I just asked them the question of doing a campout trip in January? Mind you this was asked of them in October. This fall was a little more on the warm side, so they all wanted to go. Everyone was excited about the campout and had all these ideas and things they wanted to do. First, we decided it was going to be on the Caney Fork River. One of the best places to campout if you ask me. We did have permission to camp on private land by the landowner, so please do not campout on someone's private land without permission first.
Skipping ahead.....The week was upon us, and some of the young men were excited about it while others were seeing the 7 day forecast. I haven't even looked at the weather, but already made the decision to not cancel this campout no matter what. It could be snowing and I would still be making a campfire for us, whether it was myself and I. So I pulled out my phone and there it was...26 degrees.
Thinking to myself this is going to be fun! These are the types of trips my Pops and I had done on camping trips all the time when I was growing up. I still think about Jackson Hole when I was 12 years old and how cold it was, but catching those Yellowstone Trout right below Jenni Lake Dam made it worth it!
With that in mind, Friday was here! I setup the campsite for everyone. They just needed to get here and setup their tent. I got fishing gear, my Orion Cooler, backup battery GoalZero Yeti, firing going, dinner and breakfast. Nothing could go wrong!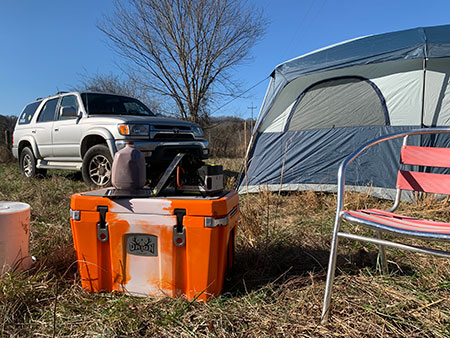 Everyone made it and we were all sitting around the campfire having fun. It was a perfect night. Not a cloud in the night sky, which made looking at the stars perfect. As we sit around the fire we decided we would all go fishing. Where we were going to go is below the Center Hill Dam. It was 25 degrees at our campsite. Yea it got below 26 degrees. With that wind coming off the Caney Fork River below the dam would make it feel like it was 0! What made me so excited was the boys wanted to go fishing anyways.
We sit at the Center Hill Dam fishing. Not one single boy hooked into a fish. We tried to help them over and over again. Gave them all the tips and tricks, but nothing. We did manage to hook into a really good 7lbs 22" Brown Trout though. Even without catching a single fish each young man was so excited about getting outdoors.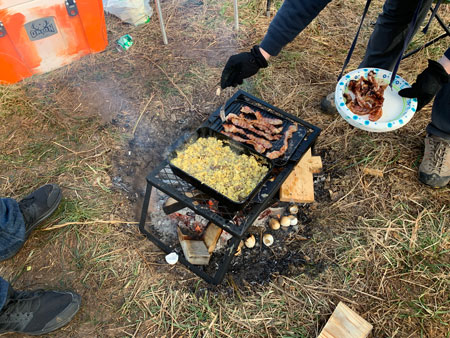 After we were done fishing we went back to the campsite and went to bed. Waking up to a warm breakfast on the campfire. First time I had ever broken 18 eggs into 1 meal, cooked 32 sausage patties, and cooked 3 lbs hash browns. We all sat there eating our breakfast as our little freeze out challenge was coming to a close and then it was said by one of the young men, "They had the best time even with it being cold!" It was not long after that all of them agreed.
Now, it came full circle for me, like I am sure my Pops felt when I told him the Jackson Hole camping trip was the best even though it was cold. This made every cold 26 degree weather second, worth it!