The unseasonably warm December weekend (well, maybe not "unseasonably" – it is Tennessee) called me to go fishing. After fishing tournaments almost every weekend for a year, some might think a break would be in order...but then they would never understand the desire that drives us to compete...and fish, and fish, and fish...and fish...so, I unloaded my Hobie Pro Angler 14 at Yellow Creek along highway 149 and immediately saw that the water temp was in the mid 50's.
I have fished there for at least forty years; from a jon boat, then an aluminum bass boat (sitting unused in my garage) before opting for the simplicity of a smaller boat and becoming a tournament junkie. In all that time I saw about every type of boat on Yellow Creek, even a guy floating on huge chunk of Styrofoam…now that was funny, but at least he was fishing...
...sorry...where was I...temp was in the mid 50's and all those years taught me the fish would be active.
I carry way too much tackle, one of the great things about the PA – plenty of room, so I searched through the five tackle bags I carry to find my spinnerbaits. I selected one with a white skirt, added a chartreuse grub with the tail facing up (argue if you will, if not up…it is wrong) and pedaled toward a spot I wasn't sure would be productive. It is a great spring location, and had been out of water until the recent rains filled it, but December?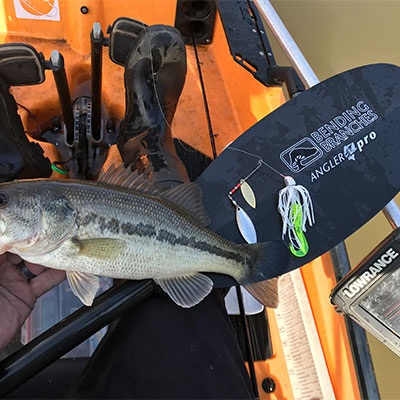 About three casts in, I felt a slight bump. "a stick" I told myself, or a gar. I didn't want to have too much hope yet.
There was a bush hanging from the bank just ahead, partially submerged. I waited until I could cast parallel to it and made my fifth cast. There was a thump; I set the hook. My line ran under the kayak and to the other side before I could get the 15 inch bass into the net.
I wasn't sure that I had found what the fish were looking for yet, but I continued down the bank varying the retrieve. Slow rolling the bait across rocks just under the surface seemed to be the key, but if I found a small pocket with the water slightly clearer than the area around it…they would slam it as soon as it hit the water.
I ended the day with over 10 bass ranging from 10-16 inches, not a day that will win you a National Championship…but for the 15th of December….I will take it.
This spot (not telling you where! Or did I already?) can hold some awesome crappie in the spring, but I had my doubts about this time of year. Since I had to get back to the ramp and the bass bite had slowed I dropped a crappie jig next to a few trees before I thought I was hung; then it pulled back. Then another...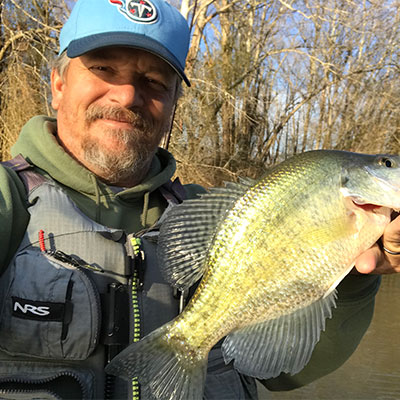 Now here is where December will disappoint you.
Today, I went with a group to Kentucky Lake searching for "personal best hawgs" only to be completely skunked. After the luck on Yellow Creek, I was encouraged to make the ride, but found the water chocolate and in the mid 40's and didn't get a single bite.
On the way home I stopped back by the exact spot I fished the day before and on the second cast...a ten inch fish. Twenty minutes later, another ten inch fish. Two hours later, I loaded up without another bite. The water had dropped about 6 inches and the fish had gone with it.
Oh by the way...one thing I forgot to mention about the two days...
Not only did I find fish in the middle of December along a creek bank that was out of water a week ago, I was fishing in 1 to 3 feet of water; water that would be barely accessible from a jon boat, virtually impossible from a bass boat...but heaven from a kayak! At least for a day or two.