It's late at night or really early in the morning, depending on who you ask. My wife Jenni, my daughter Zelda, my nephew Drew, and I are driving......which feels like forever! We have already past the Tennessee and Georgia state line and the Georgia and Florida state line. Everyone is sleeping and resting, and I am thinking about where we are going....the Florida Keys!
The last time I was down here was about 2 years ago before Zelda was born. With a little bit of money in our pockets, my wife and I set off to drive to Key West for our anniversary. We stayed at Boyd's Campground and paddling our Jackson Kayak Kraken 13.5 and Coosa around all the mangroves and the island, so me and Jenni had a pretty good idea of what we were wanting to do with Zelda and Drew.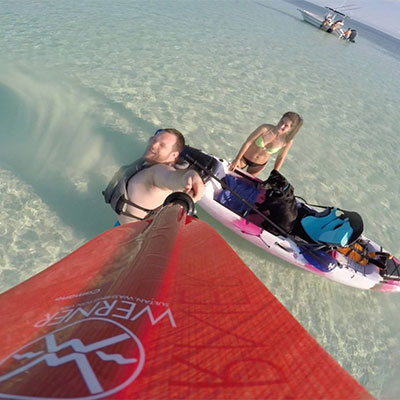 With all those memories flooding my mind as I continued to drive to the Keys, I started to realize we were coming up on the A1A to take us the rest of the way to the Keys. Island after Island we passed while we pointed out the windows and took in all the beauty around us. We start to get onto our key where we would be staying and I was happier than a kid going to a candy store! We were here, finally! Unfortunately, it was late and everything was closed so we decided to turn in, in order to get up early this next morning.
First thing we are up and driving to Robbie's. Now if you haven't been to Robbie's it is a fun little place for family. There is art, fishing, mangroves, rentals, food, you name it. But what makes this place different is the mangroves and the tarpon feeding. The place is named after Robbie, but what makes the place different is the story behind Scarface. Check it out here by clicking on this link.
After walking around Robbie's, we decided to take our kayaks through the mangroves and this is where the adventure begins for us. We unloaded a Hobie Pro Angler 12, Hobie Compass, and a Jackson Kayak Coosa FD. Now, we set off into the wilderness of mangroves. These mangroves went on for miles and we had a map with us to know where we were going.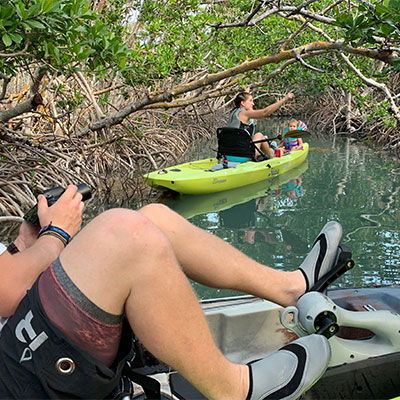 We came to a clearing where myself and Drew decided to fish for awhile, while Zelda and Jenni just laid around in the sun and taking pictures of everything around. We didn't catch anything this day, but we did run into a friend.......a 8 foot crocodile. Yep, you heard right, a crocodile. Just laying there on a guy's boat ramp. I even asked the owner of the home about it and he said yea he has been here for about 2-3 years. He owns the place now. It was amazing to see one up so close!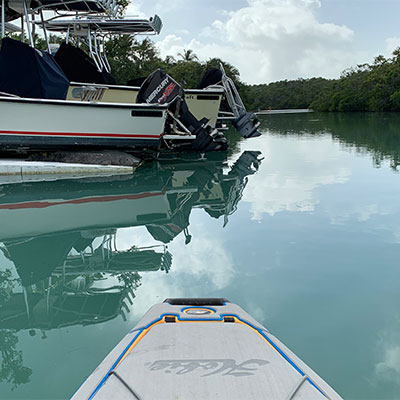 As we turned around took off back for Robbie's, leaving the crocodile behind to rest on that boat ramp. We kayaked back about 4 miles through the mangroves. Once we were back close to Robbie's we all decided to jump in and take a swim. Yes, even after seeing that crocodile a few hours before. What made this trip worth it to me was seeing my family together playing in the ocean. I didn't even realize it was Zelda's first time in the ocean until Jenni brought it up when we were loading up the kayaks at Robbie's.
This made me think about how family is what it is all about and how kayaking can bring family, friends, and even strangers together to enjoy the great outdoors. This will be an amazing trip I will never forget.